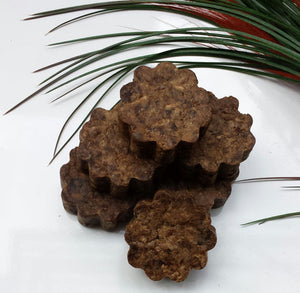 African Black Soap has been used for centuries to heal problem skin. It detoxifies and purifies the skin, due to its amazing ingredients. It is made up of Natural, Organic components.

Wholesome Ingredients
Plantain Skins are high in vitamin A, which increases collagen production; vitamin E, has natural healing properties which helps moisturize the skin; & iron, which boosts the benefits of both vitamins A and E.

Cocoa Powder softens & firms the skin & its antioxidants & anti-inflammatory properties fight free radicals, repairs damaged skin, and renews skin cells.

Cocoa Butter is a natural moisturizer loaded with vitamins A and E that fights & helps reverse the signs of aging. It also eases rashes, eczema, and psoriasis.

Shea Butter also has vitamins A and E to strengthen skin, repair damage, and diminish wrinkles.
Over time ABS can help in healing sores, scars, & help with treating psoriasis, eczema, & dermatitis.

Palm Oil is rich & packed with antioxidants and two forms of vitamin E which help heal acne and eczema.

Palm Kernel oil, extracted from the fruit seeds of the African palm tree, is high in auric acid, giving it antibacterial and anti-fungal properties that can help heal acne.

*Please Note* African Black Soap should not be entirely Black in color. If so, it is not authentic. It's watered down & mixed with different agents!

• Color: Black/ Brown
• Body Product
• Soap
• 5 oz
• Item #0001

*Note* We make our African Black Soap in Batches. There may be slight variances in color and size. Each bar of soap will not be identical; though all ingredients are the same with each batch that is processed.
Read our Blog Post 'What is African Black Soap?' for more on this product.